The 101 Of Root Canal Treatments
October 28, 2022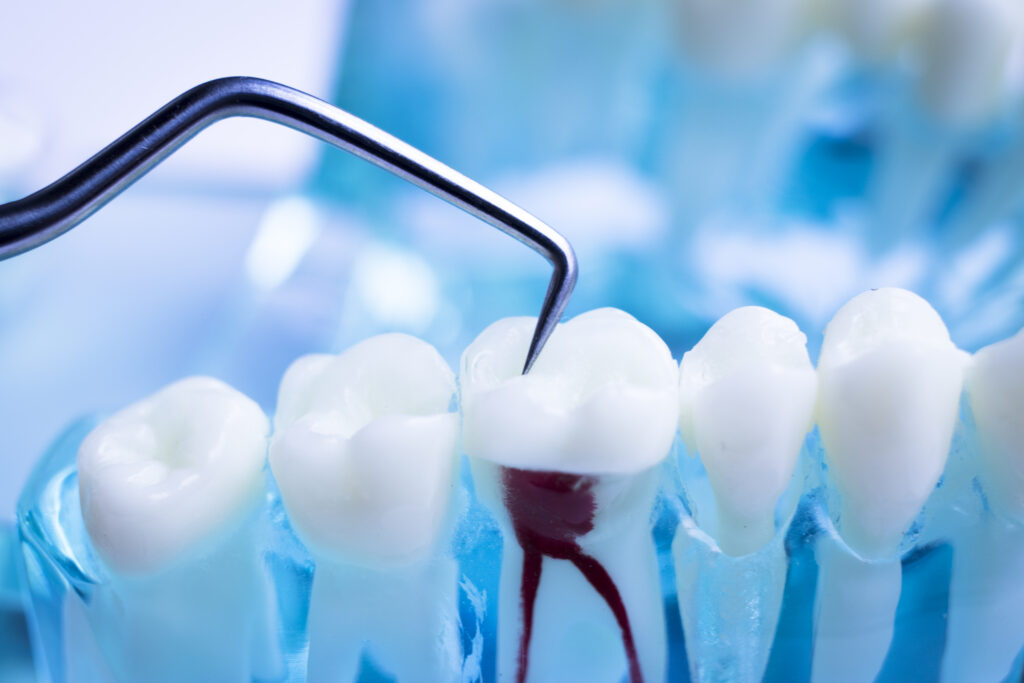 The Basics
What is a root canal?
A root canal treatment is a process in which the damaged tooth pulp is thoroughly removed.
The dentist then shapes the tooth using irrigation and filing treatments. Gaps are filled with rubber and sealed with cement.
After a root canal, the patient is pain-free. The tooth will die when the nerve and infection are removed.
After a root canal, the tooth needs a crown or filling.
Why do individuals require root canals, causes, signs, and symptoms?
If you have significant tooth pain, see a dentist. Even though tooth discomfort might signify other illnesses, it's essential to have healthy teeth.
Common symptoms of the need for a root canal include:
Persistent toothache when chewing or applying slight pressure.
Heat or cold sensitivity.
Tooth gum inflammation.
Teeth discoloration
What treatments are typically recommended?
Infected tooth roots require a root canal. Infections must be extracted.
A tooth's nerve or pulp might abscess, producing excruciating pain. Root canal treatment can save badly infected teeth.
Are root canals painful?
Many fear root canal pain. Most people get immediate recovery since therapy eliminates the source.
After a root canal, call your healthcare practitioner promptly if you are having throbbing pain.
The Process
What is the standard root canal treatment?
Your dentist will take X-rays of the tooth before performing a root canal.
This helps assess the damage's degree and establish if root canal therapy is the best treatment choice.
The Procedure:
A local anesthetic numbs the afflicted tooth and its gums.
Nitrous oxide, oral sedatives, and IV sedation are other dental relaxants. Sedation may be used for dental anxiety.
Root canal treatment begins with a little rubber barrier. This isolates and moistens the tooth during surgery.
A crown incision is made to reach the pulp.
Tiny dental instruments remove nerves, blood vessels, and tissues.
After pulp removal, the pulp chamber and root canals are cleansed, disinfected, and reshaped.
Gutta-percha fills the empty waterways.
The tooth is filled temporarily to keep germs out.
The final repair placement 
A dental crown is usually needed to safeguard a restored tooth and restore a normal bite.
Making a crown takes two to three weeks. The temporary filling is removed when the actual crown is complete.
Sometimes, you might get a crown during your root canal session.
How to be ready for a root canal?
Here are some root canal preparation steps:
Severe infections may require antibiotics or anti-inflammatory medicines before your session.
Tobacco hinders recovery. If feasible, quit smoking days before your root canal.
Root canal anesthesia can numb your mouth for many hours, so eat well before your appointment.
What to expect following a root canal?
After a root canal, you may feel sensitive for a few days.
Typical symptoms can be treated with prescription or OTC medicines. After one to two weeks, most side effects fade.
Additional Treatment Solutions
Ashraf Dentistry offers three additional treatment solutions which can assist with root canal treatment. IV sedation dentistry reduces anxiety and fear.
CEREC® Restorations mills ceramic blocks for implants, inlays, onlays, partial crowns and bridges, veneers, and anterior and posterior crowns. And lastly, PRP, Platelet Rich Plasma Therapy.
Deep IV Sedation Dentistry
Ashraf Dentistry offers IV sedation dentistry. It's a good solution for dental phobias.
Intravenous (IV) sedation is administered during dental operations.
'Twilight' or sleep' dentistry is IV sedation. The sedative helps you relax, not sleep. Your therapy will seem fuzzy until the sedation wears off.
If you're terrified of needles, the dentist, or dental procedures, consider IV sedation. Your dentist may recommend this anesthetic for root canals, implants, or extractions.
CEREC® Restorations
Ashraf Dentistry provides CEREC® Restorations.
CEREC® Restorations crowns are a good option if you want a natural-looking, long-lasting crown quickly. This crown covers teeth after a root canal.
It combines a camera, computer, and milling equipment to create dental restorations in a single visit. It employs CAD to make natural-looking restorations in minutes.
This technique makes tooth repair easy and non-invasive. The treatment takes 2 hours.
Platelet-Rich Plasma Therapy
Ashraf Dentistry provides Platelet Rich Plasma Therapy.
PRP has been used in surgery since the mid-1990s, but just lately in dentistry.
It's a safe, straightforward, and cost-effective way to reduce postoperative discomfort and promote tissue and bone growth. It speeds recovery after oral and maxillofacial surgery.
PRP injections can take up to 30 minutes and dramatically reduces root canal irritation.
Root canal therapy can address infection at its source, helping you feel better faster. Contact Ashraf Dentistry today if you are experiencing symptoms of an infected tooth.