Common Gum Issues
February 19, 2023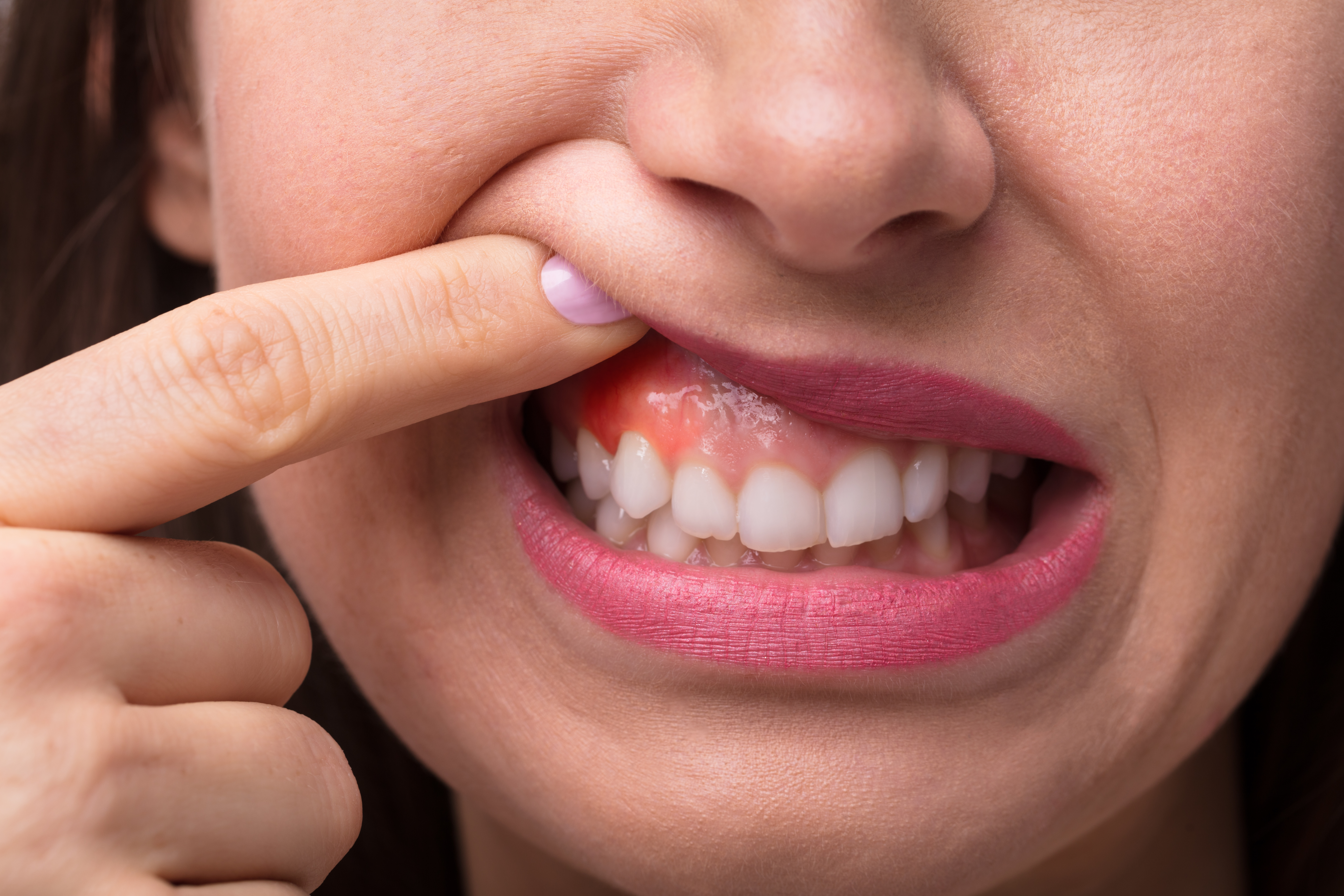 Have you experienced gum sensitivity? Gum issues are the biggest reason for tooth loss in the case of adults. This article will discuss the five major types of gum issues, their causes, symptoms, and treatment options.
Gum disease
Gum disease is also known as periodontitis. This gum issue affects about 1 billion people globally. The leading cause of this problem is poor oral care. The rise in oral bacteria is a result of dental plaque, which, untreated, can lead to hardened tartar deposits. Regular dental cleanings are a must to avoid this issue—extreme cases of periodontitis end with the loss of jawbones, which cannot be reversed or treated.
Although not overtly painful, symptoms of gum disease can be gum sensitivity around your teeth and sore or swollen gums with redness around the base of your teeth. Consult your dentist immediately if you notice any such signs.
Gingivitis
Gingivitis is a disease where the gum surrounding the base of the teeth is inflamed, irritated, and swollen. It is the most common form of gum issue. Key symptoms of gingivitis are tender, red, and swollen gums that bleed during brushing. Bad oral hygiene is a primary cause of gingivitis. If it is not treated correctly, gingivitis could lead to a severe infection that would damage the bone supporting your teeth and eventual teeth loss. Chronic cases of gingivitis have been known to aggravate the lungs and heart and increase the risk of respiratory issues, rheumatoid arthritis, and stroke.
Gingivitis can be treated and reversed with good oral hygiene, following a healthy diet with less sugar, and regular visits to the dentist.
Gum recession
Gum recession is an issue where the gum tissue gradually pulls back from the margin around the teeth. This leads to the root of the tooth being exposed and increasing the gap between the gum line and teeth. Lack of treatment for gum recession will lead to definite tooth loss as the gaps make it easy for disease-causing bacteria to accumulate inside the gum.
Gum recession can be caused due to periodontal ailments, poor oral care, excessive brushing, severe clenching and grinding of teeth, using tobacco, or hormonal imbalance in the body. It is treatable, where mild cases can be managed with a deep cleaning and smoothening process to realign the gum line. Extreme cases of gum recession may need surgery.
Gum boils and gum abscess
Gum boils, or abscess is a gum disease that is seen with the growth of pus-filled, pimple-like bumps on your gums. Three types of abscesses can be found:
A gingival abscess where the boil is near the tooth.
Pericoronal abscess, which is a boil around the crown of an impacted tooth.
A periodontal abscess, which is a boil inside the gums.
Significant causes of gum abscesses and boils are poor oral care, excess sugar intake, dental trauma, or a weak immune system. The symptoms will include pus-filled swelling, inflammation, irritation of the gums, periodontal pocketing, and toothache. Most mild cases can be treated with antibiotics and deep cleaning to drain the pus from the boils. However, aggravated cases of abscesses may need a tooth extraction or surgery for bone damage.
Poor gum health can cause a variety of other complications. Having a disciplined oral care routine can help in avoiding gum issues. Schedule regular dental check-ups so any problem can be identified, and the required gum disease treatment can be started promptly.