Dental Implant Solutions
September 11, 2022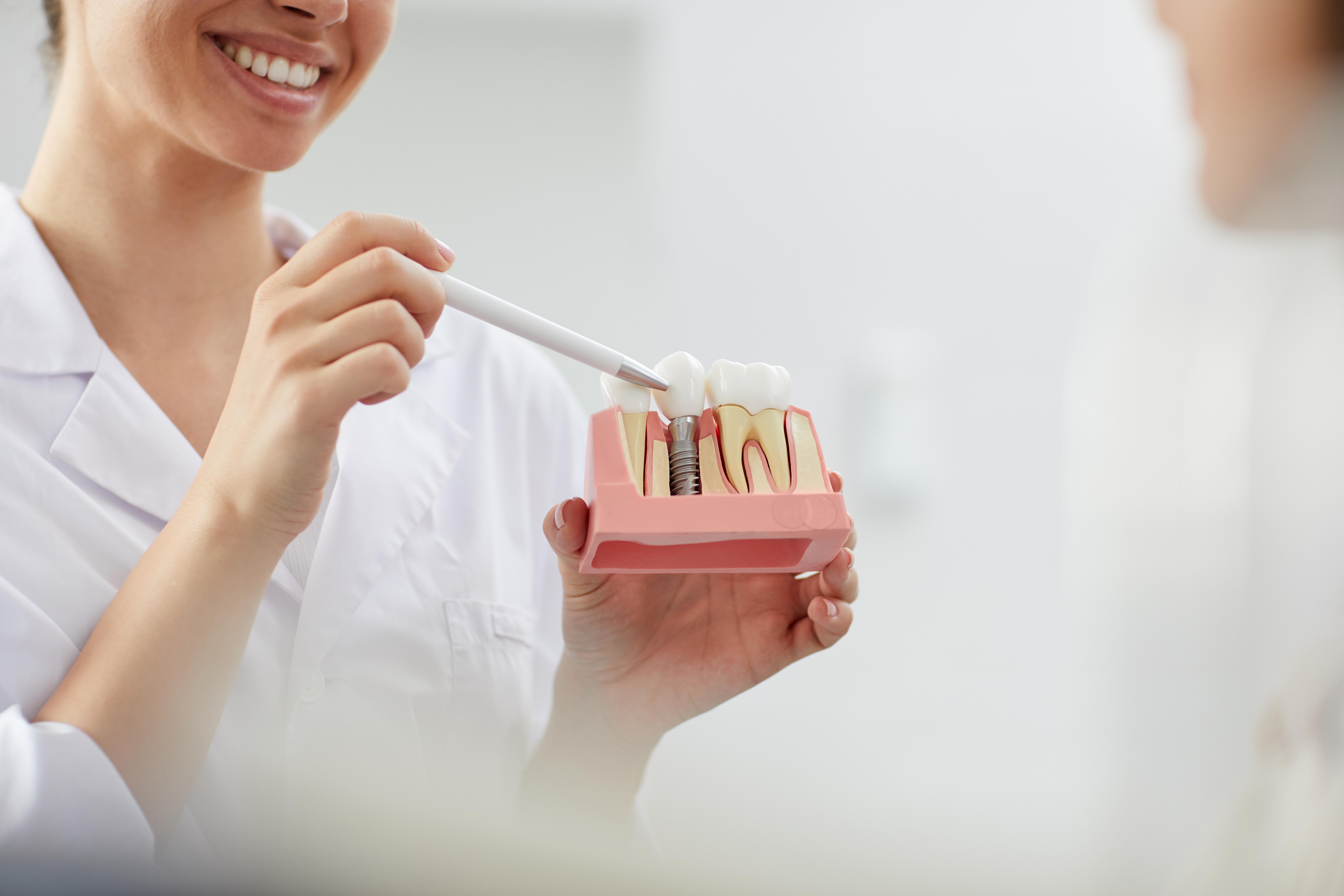 Do you feel conscious about the way your teeth look? Do you smile less because of missing teeth? A dental implant may be an effective way for you to set all this right.
If you have been advised to consider a dental implant solution and want to know more about it, continue reading. We will explore different dental implants and why they are an excellent oral health care investment.
Effective Implant Solutions
Several reasons lead to a person missing a tooth. Some individuals are born without certain teeth; tooth decay, injuries, or gum diseases are some of the most common causes of missing teeth. A dental implant permanently replaces your missing tooth.
It is an artificial tooth root made with biocompatible materials that are embedded into your jawbone. This acts as an anchor for your bone, allowing it to fuse with it and creating a foundation for the replacement tooth. The result is a tooth that appears and feels just like a real natural tooth.
Depending on your need, your dentist may advise you on any of these types of implants:
Single Tooth Replacement
This dental implant replaces a single missing tooth. Unlike other restorations, a single tooth replacement replaces the entire tooth from its crown to the root. This is the best option when you have a single missing tooth or multiple missing teeth that are not adjacent to each other.
All-on-4 Implants
Losing teeth due to wear and tear or gum diseases as one ages is quite common. While some people lose a few teeth, some end up losing most of their natural teeth. All-on-4 dental implants are a solution that allows you to restore your whole smile. They are designed to replace your entire set of lower and upper teeth and act as permanent, natural-looking teeth.
All-on-4 implants do away with the need to replace each missing tooth individually. In this, four titanium posts are inserted in your jawline as the main anchors. Permanent dentures are then attached to these anchors to give you a seamless set of teeth.
Implant Supported Dentures
Implant-supported dentures are one of the most suitable options for people who want to improve their ability to chew food and smile without spending a fortune. With this process, your dentist attaches four-six implants in your jawbone. Once these implants fuse into the jawbone, a set of dentures is attached to them.
These implant-supported dentures prevent tissue loss, which is common in traditional dentures.
Top Advantages of Dental Implants
There are many long-term benefits of dental implants. They add aesthetics and functionality to your smile by giving you an entirely new root system and tooth. Before we look at the top advantages of implants, here's a look at who can benefit from this restoration:
Anyone who wants to improve their self-image or feel self-conscious due to missing, damaged, or discolored teeth.
People whose dentures or bridge has become loose.
Those who don't want to deal with removing and cleaning dentures every day.
Those who suffer from a severely cracked or broken tooth.
 People who face difficulties in chewing food due to damaged or missing teeth.
Here's how dental implants benefit you:
Dental implants are made to replicate the look and feel of your natural teeth. They give you the confidence to smile and engage in social activities.
With proper care, they last for decades without compromising your teeth's functionality.
Since they are anchored in your jawbone, they improve your chewing. This lets you enjoy your food and not miss out on nutrition.
They restore speech problems arising due to missing teeth.
Missing teeth may potentially make your face look sunken. Dental implants restore the structure of your jawbone and restore your facial features.
A considerable gap from a missing tooth can make the adjacent teeth shift towards the gap. Implants prevent this from happening and improve your bite and appearance.
Missing teeth may foster bacteria and food around the gum line. Implants prevent this and save you from the risk of gum diseases.
Dental Implant Care Solutions
Whether you have an all-on-4 dental implant or implant-supported dentures, they can last for decades if you care for them adequately. Here are some aftercare solutions to keep in mind for maintaining your dental implants:
Caring For Your Single Tooth Implants
Get yourself a soft-bristled toothbrush, preferably with nylon bristles.
Brush daily for two minutes. Follow this with flossing and using an antimicrobial mouthwash.
Avoid sticky and hard foods.
 Visit your dentist regularly to keep the implant in good shape.
Caring For Your all-on-4-dental implants
Maintain a dentist-recommended oral hygiene routine that includes brushing and flossing.
Incorporate an antibacterial mouthwash at least once a day.
A scheduled dental appointment with your dentist at least twice a year is recommended.
Make sure that you brush your gums while brushing your teeth.
Avoid smoking, alcohol, and biting on hard foods.
Caring For Your Implant-Supported Dentures
If you have removable or snap-dentures, you must clean them thoroughly after removing them. Use a soft brush and a dental cleaning solution.
Never sleep with your dentures on. Soak them in a denture solution to keep them hydrated.
Always clean around the gum tissue to prevent food debris and bacteria.
Visit your dentist for regular examination and for them to check for fitment issues.
Never consume foods that are too chewy or hard.
Avoid smoking as it tends to stain the dentures.
The Bottom Line
Dental implants are as strong as the teeth they replace and have excellent benefits for your oral health. All you need to do is care for them and see your dentist regularly. Experience a boost in confidence and be proud to show off your beautiful smile with dental implants. Let us help with your dental goals! Contact Ashraf Dentistry today.