Fun Ways To Teach Kids About Their Teeth
October 30, 2022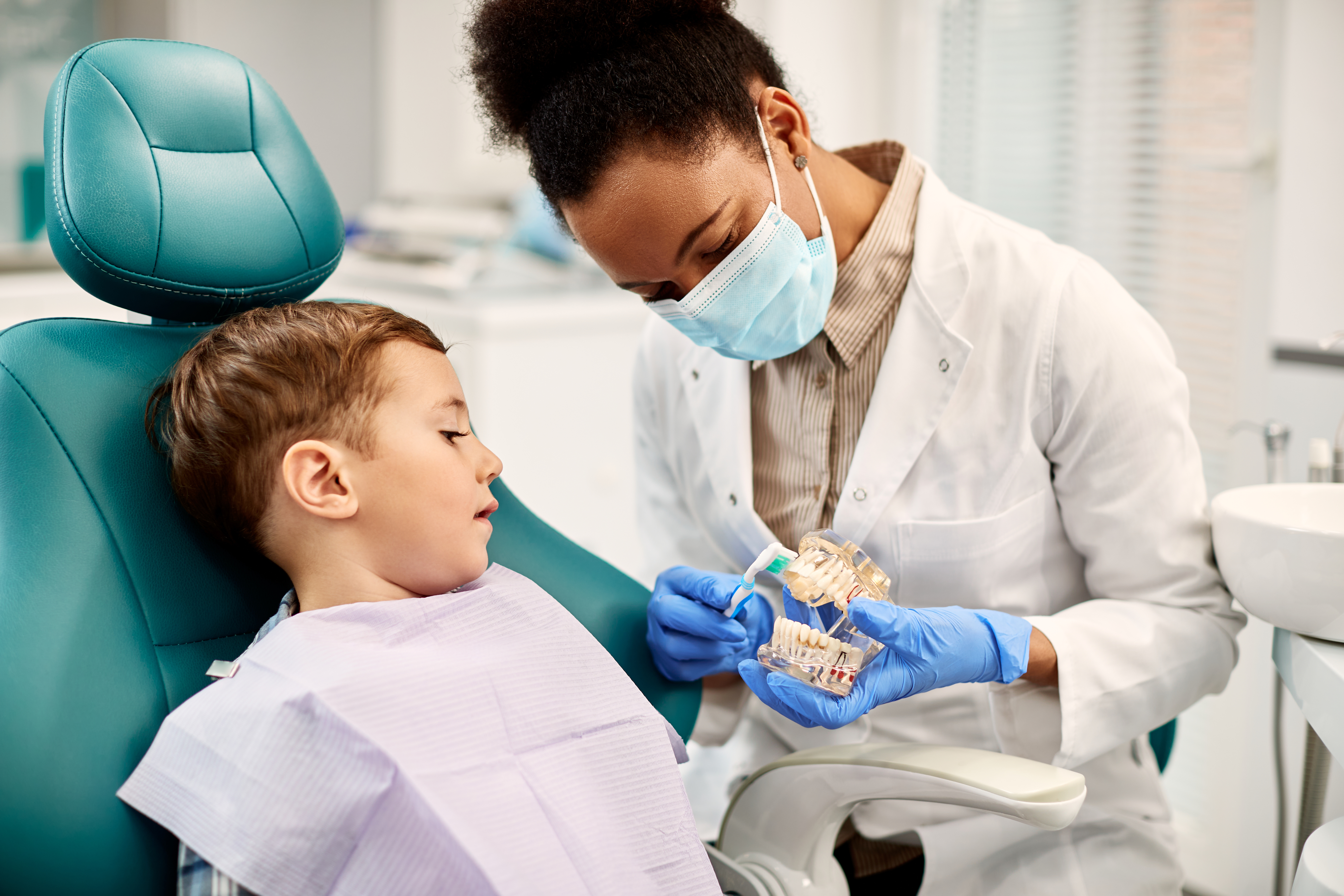 In your childhood, you might have gotten a lesson or two from your parents on the importance of maintaining good dental hygiene. As a parent, you are responsible for guiding and educating your kids about the same. Here is a list of the best techniques to help your kids follow oral hygiene. Before that, let's understand when is the ideal age to start dental hygiene for your kids.
When Is The Ideal Age To Start Dental Hygiene?
Dental care should start when the infant is between zero and six months old.
Dental Hygiene Practices For Infants From Zero To Six Months
Soon after feeding your baby, clean the infant's gum to prevent tooth decay. To clean the gums:
Rest your baby in one arm.
Take a moistened washcloth in the other hand and gently clean the gum tissues.
Dental Hygiene Practices For Infants From Six To Eighteen Months
To maintain the good health of your baby's teeth, you can do the following:
Once the teeth come out, use a soft-bristled toothbrush without toothpaste and gently brush the teeth and gums.
By age one, it is recommended that you take your child to a near pediatric dentistry clinic for a dental checkup. Make sure to pick a pediatric dentist who makes your child feel comfortable. Doing so will remove any fear the child has about future dental checkups.
At the age of one, continue to brush your child's teeth using the same brush without toothpaste twice a day.
Dental Hygiene Practices For Toddlers From Eighteen Months To Five Years
As the child grows up, you must change dental hygiene practices. At this age, you need to:
Start brushing your child's teeth with a pea-sized amount of toothpaste.
Use a kid-sized brush that has gentle bristles.
Teach your child to spit the toothpaste and not swallow it during and after brushing.
At this age, you should also take your child to the dentist for checkups regularly.
Dental Hygiene Practices For Children From Six To Eleven Years
At age six, make your child brush their teeth without assistance using a pea-sized amount of toothpaste.
Tell them to properly rinse and spit the toothpaste after brushing.
Ask the child to brush for two minutes and twice daily.
As the child has grown up, you can introduce an electric brush for brushing or continue with the traditional kid-sized manual toothbrush.
How To Make Teaching of Dental Hygiene Interesting To Your Kid?
Teaching your child about dental hygiene can be challenging. To solve this problem, you can take the help of educational toys. Toys like dentist role-play kits will help you start a conversation with your kid about dental health.
6 Fun Activities For Parents To Teach Kids About Oral Hygiene
Use a plastic soda bottle and cut the bottom half carefully. Paint the bottom half white so that it looks like a tooth. Combine flour and water and splatter the paste on the tooth, which looks like food particles and plaque. Let the paste harden. Brush the paste to show your child how hard it is to remove hardened plaque in contrast to a well-maintained tooth.
Another way to make them interested in oral hygiene is by taking them to a pediatric dentist and showing them around the clinic. Or a fun shopping day to look for different toothbrushes and fun flosses. Shopping for oral hygiene products that are special and meant for them will grab your child's attention.
You can also teach brushing by using a stuffed toy. Buy a toy that shows its teeth. Color it with a black temporary marker. Take a brush and show your child how brushing is done.
Take a white styrofoam egg carton and cut a big tooth out. Give a list of healthy and unhealthy food options to your child. If your child selects healthy food, mark a circle on the tooth using a dry eraser marker. If your child chooses unhealthy food, draw a circle with a permanent black marker. Give the tooth to your child and ask them to brush the circles. While your child is brushing, explain to them that it is difficult to brush away unhealthy food choices and how these types of food can impact their health and teeth.
You can also take the help of music videos available online, which teach the importance of dental hygiene. There are many toothbrush songs and dance videos, particularly for kids, that highlight the importance of brushing.
Use Duplo blocks. Stick Play-Doh or clay around and at the base of the blocks. Hand over a piece of yarn to resemble floss and ask them to remove the Play-Doh entirely from the blocks. This way, you can teach them how to floss.
Besides this, you should also teach your child the importance of eating healthy food to keep the teeth healthy.
Tips About Healthy Eating
Encourage your child to snack on crunchy veggies and fruits that help keep teeth clean and tummies full. Cut veggies and fruits into fun shapes using cookie cutters, or arrange them into fun characters.
Have a baking day, and find easy, healthy recipes that everyone can participate in making.
Sometimes it is hard to create a quick, easy snack that can be taken on the go. Here are two easy snacks which are fiber-rich and keep teeth healthy. You can give your child sliced apples with sugar-free peanut butter. Or make a quick smoothie out of spinach, frozen berries, and plain yogurt. Ahead of time, you can freeze the ingredients in sandwhich baggies, and when it's snack time, take it out and pop it into a blender with a splash of milk or dairy-free milk.
Dairy products like cheese, milk, and yogurt are rich in calcium, strengthening a child's teeth. You can give your child plain yogurt with a handful of berries.
Teaching your child about the importance of having good dental hygiene at an early age is essential. Doing so will ensure your child will have healthy teeth and gums in childhood as well as healthy dental practices to carry into adulthood. However, teaching kids is not easy. Try the tips mentioned above to help make dental hygiene fun and interesting.
Need the assistance of a pediatric dentist? Contact Ashraf Dentistry today!