Invisalign vs. Braces
April 17, 2022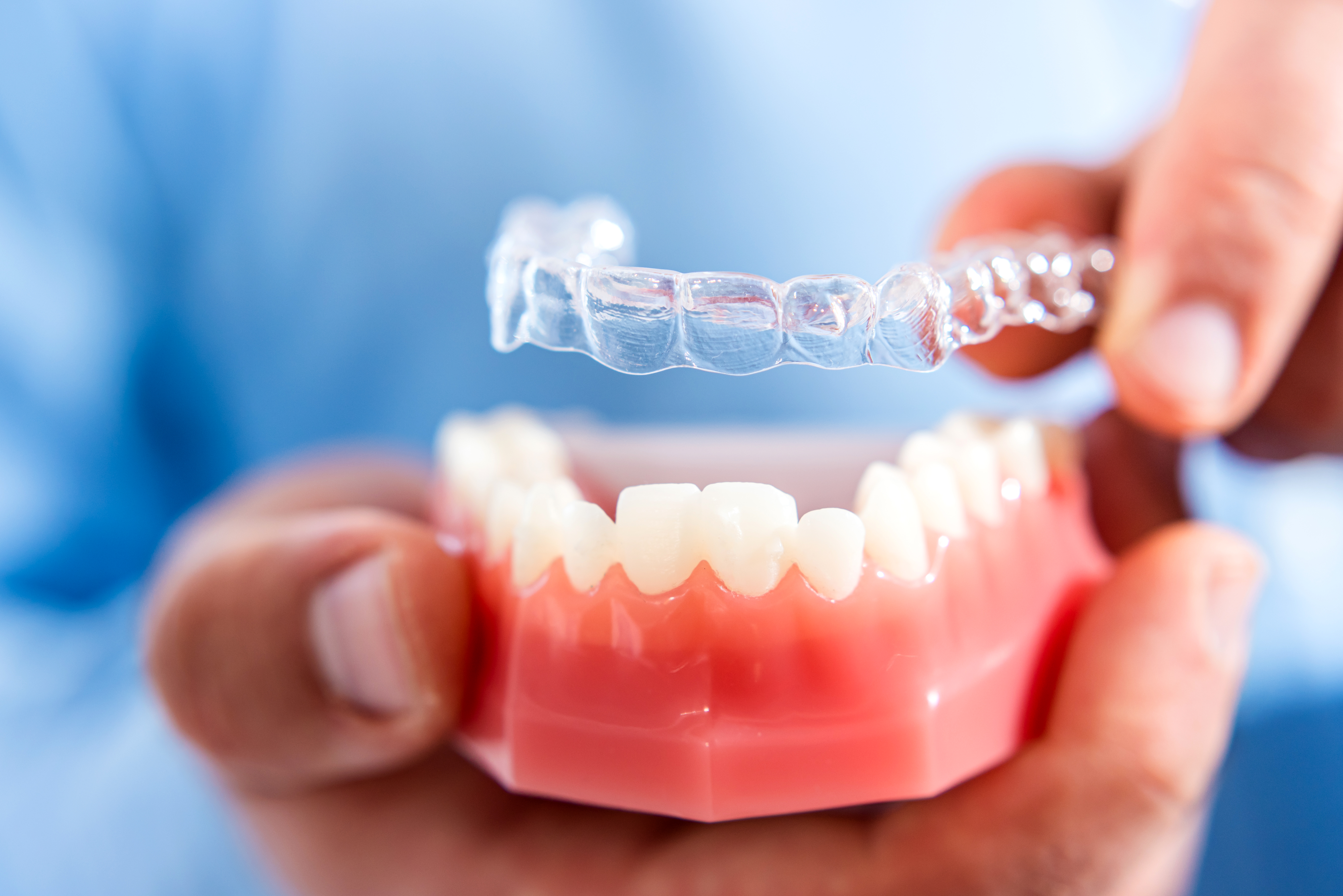 Ashraf Dentistry weighs in on the advantages and disadvantages of Invisalign. (Source: Every day health, Invisalign vs. braces: which is better?, Nicole Gleichmann, September 9, 2021, https://www.everydayhealth.com/dental-health/invisalign-vs-braces-which-is-better/.)
When deciding between Invisalign and braces, you might be unsure which option to choose. To help you out, let's have a look at Nicole Gleichmann's article on "Invisalign vs. braces" and what Doctor A has to say about it.
Nicole Gleichmann explains how Invisalign works in detail—starting with custom-made invisible braces that are contoured to exert pressure in all the right spots. Dr. Ashraf comments, "Invisalign is an orthodontic appliance that straightens misaligned teeth. It is well known for the discreet look that it provides. Even though many people like the look of Invisalign, some people still might choose braces. Depending on the condition of their teeth. If large gaps are present, or there is a complex tooth, braces may be the better option for them."
Pros and Cons
Nicole then discusses the pros and cons of using Invisalign and braces. She advises that you consider the extent of correction required, your age, and your lifestyle when choosing between them.
"When deciding between Invisalign and traditional braces, shoppers should weigh the advantages and disadvantages of both options." Dr. Ashraf agrees.
Pros
Appearance
Dr. Ashraf points out, "Many people choose Invisalign to look good and to have an attractive smile while wearing a corrective orthodontic appliance. But Invisalign goes beyond simple aesthetics."
No Food Restrictions
"With Invisalign, there are no food limitations. When you choose braces, you'll be given a list of foods you can't consume. Popcorn, hard-crusted bread like bagels, biting into apples or corn on the cob, and most types of candy or gum are on the list. You can eat whatever you want with Invisalign because you simply remove your liners and eat what you want." Dr. Ashraf clarifies.
Easy Brushing and Flossing of Teeth.
"You may have heard of a few terrifying stories of kids who didn't brush their teeth with braces. And some scary consequences include cavities, swollen gums, permanent white scars on your teeth. All these issues are the result of improper brushing and flossing when wearing braces. Brushing your teeth while wearing braces is quite difficult. Although oral hygiene tools make cleaning easier, they may still present a challenge for some. There are no brackets or other components to trap food with Invisalign. Patients with Invisalign have fewer concerns with poor oral hygiene. Brushing and flossing are made easier with clear aligners." Dr. Ashraf explains.
Fewer and Shorter Orthodontist Appointments.
"Braces require a great deal of human labor and ongoing maintenance on the orthodontist's part. They necessitate periodic checks and even repairs. Such as bonding brackets, changing wires, putting rubber bands, connecting springs, and so on. With Invisalign treatment, the majority of these time-consuming procedures are eliminated. A typical braces visit lasts between 20 and 40 minutes. An Invisalign visit, on the other hand, takes roughly 10 minutes. The regular Invisalign appointment is short, and you don't have to go to the orthodontist as frequently." Dr. Ashraf agrees.
Invisalign Gives you Comfort.
"Invisalign is more comfortable than braces since it does not cause cuts or discomfort. Braces can take some time to get used to before your cheeks adjust. And the new braces and wires placed on your teeth can cause some discomfort. When you first get braces, you should expect sore teeth for a few days. This is normal. Invisalign minimizes or eliminates much of the discomfort that individuals with braces suffer by removing brackets and wires from the equation." Dr. Ashraf explains.
Cons
Discipline Required.
Dr. Ashraf then proceeds with the cons, "Now we talk about why Invisalign might not be the ideal option for you. The main reason is that you are required to wear it. Self-discipline and motivation are crucial to the success of your Invisalign treatment. When aligners are easy to put on and take off, some people forget to put them back on. According to best practices, Invisalign aligners should be worn for roughly 21 hours per day."
Must Remove to Eat.
" You should not wear Invisalign while eating or brushing. Other than those moments, the Invisalign aligners must be worn for the majority of the day." Dr. Ashraf points out.
Not Recommended for Complex Corrections.
"They are only used for minor treatments and not for major adjustments. In such cases, we suggest using braces." Dr. Ashraf suggests.
"After looking at all the pros and cons, we conclude that– Invisalign can be your best option if you're looking for minor teeth straightening. However, if you are looking for major repair and teeth straightening, braces may be a better option. Be sure to review all of the pros and cons with your dentist." Concludes Dr. Ashraf.