Make oral care part of your nighttime routine
June 16, 2023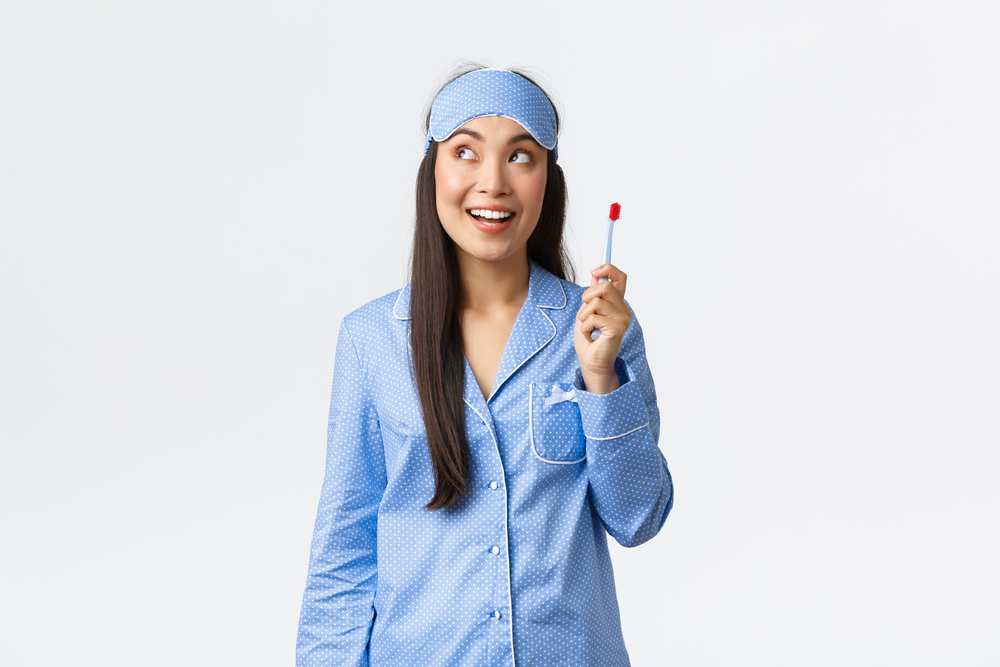 Maintaining proper oral hygiene is a crucial element of overall well-being, and prioritizing the care of your teeth and gums is a fundamental component of your daily regimen. Ignoring oral health can result in significant dental issues such as cavities, gum disease, and tooth loss, necessitating expensive dental procedures like cleanings and fillings.
At Ashraf Dentistry, we understand the importance of maintaining good oral hygiene habits to prevent these issues. We will comment on the seven points discussed in Jennifer Archibald's article, "Make Oral Care Part of Your Night Time Routine," to help our patients achieve optimal oral health. (Source: Greatist, How Bad Is Falling Asleep Without Brushing Your Teeth, Really?, by Rachel Nussbaum, medically reviewed by Jennifer Archibald, DDS, November 20, 2020, https://greatist.com/live/brushing-teeth-before-bed#tips ).
Brush before bed
The article highlights the significance of brushing before going to bed to eliminate any food particles and plaque that may have accumulated during the day or late-night snacking. At Ashraf Dentistry, we recommend brushing twice daily for the recommended two minutes with a fluoride toothpaste. Brushing before bed is crucial because it removes the plaque and bacteria that have been accumulated throughout the day, reducing the risk of cavities and gum disease.
Remember to floss
Flossing is often overlooked but is just as crucial as brushing for maintaining good oral hygiene. Flossing removes plaque and stubborn food particles from between the teeth and gum line, which cannot be reached with a toothbrush alone. Ashraf Dentistry shares, "We recommend flossing once daily to prevent cavities and gum disease."
Rinse with mouthwash
Mouthwash can be used as an additional tool to help maintain good oral hygiene. It can help kill bacteria and freshen your breath but should not replace brushing and flossing. At Ashraf Dentistry, we recommend using an antimicrobial mouthwash after brushing and flossing to reduce bacteria and promote healthy gums. As the article mentions rinsing your mouth with water is also beneficial after a meal.
Use the right toothbrush
Choosing the right toothbrush is essential for effective brushing. A soft-bristled brush is an excellent option as its gentle on the teeth and gums and can remove plaque without causing damage. At Ashraf Dentistry, we recommend using a soft-bristled toothbrush with a small head. This is beneficial for better access to all areas of the mouth. It's often misunderstood that you must use a stiff toothbrush and brush with force to thoroughly clean your teeth; however, this is not the case.
Replace your toothbrush regularly
Replacing your toothbrush regularly is necessary to maintain optimal oral hygiene. Old toothbrushes can harbor bacteria and become less effective in removing plaque. We suggest replacing your toothbrush or electric toothbrush heads every three to four months. Suppose you are still determining when you began using your toothbrush. In that case, a good indication is to take note if the bristles are frayed, shares Ashraf Dentistry.
Don't neglect your tongue
The tongue can harbor bacteria and cause bad breath if not cleaned properly. Engaging in tongue brushing or scraping can assist in eliminating bacteria and improve bad breath. At Ashraf Dentistry, we suggest using light pressure to delicately brush your tongue with a toothbrush or tongue scraper.
Visit the dentist regularly
Routine visits to the dentist are vital for maintaining good oral health and hygiene. Professional cleanings and checkups can help detect any dental problems early and prevent further damage. At Ashraf Dentistry, to ensure ideal oral health, we suggest scheduling appointments with your dentist every six months.
In conclusion, following a regular nighttime oral hygiene routine can help prevent dental problems and promote overall health. At Ashraf Dentistry, we promote the adoption of diligent oral hygiene practices among our patients and emphasize the importance of routine dental checkups, exams, and cleanings to uphold optimal oral health.