Mental Health and Your Teeth
May 07, 2023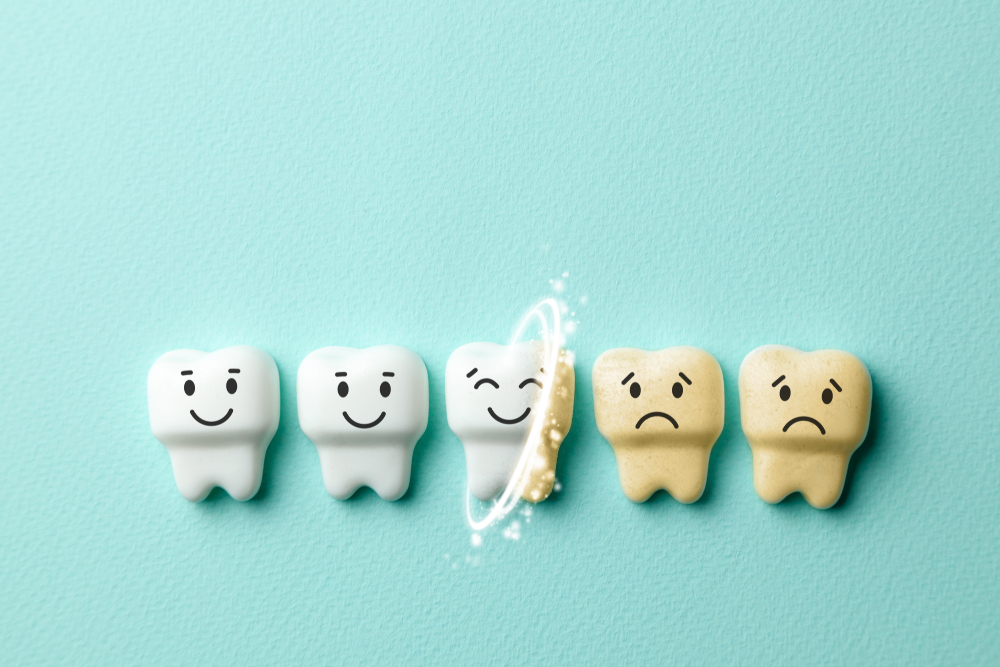 Mental health awareness month – May – is here. It is an excellent time to prioritize this aspect of our health. Most of us are unaware that mental health issues can also lead to dental problems. Even high-stress levels can result in poor oral health and provoke associated ailments. Knowing how they are connected can help you avert many of these problems and prevent an emergency dentist visit.
Stress and anxiety
To begin with, when you are stressed out, you don't pay attention to your oral hygiene routine. You may be ignoring flossing, not brushing adequately, or keeping up with your regular cleanings and fillings appointments. These lead to poor oral health over time. Anxiety can also make you ignore your food, often pushing you to pick up unhealthy snacking habits or skip meals. Neither is healthy for your dental or overall health. Stress is also a key cause of canker sores in your mouth.
With stress hormone cortisol peaking, your immunity is compromised, and bacterial infections can easily flourish in your gums. Some medications used for fighting off mental health issues result in dry mouth.
Have you noticed that you tend to clench or grind your teeth when you are terribly stressed? This can seriously damage your enamel and even the bone structure. These kinds of damage are irreversible. Jaw issues are also common side effects of this result of extreme anxiety.
Dealing with anxiety apart, talk to your dentist about solutions for the oral health problems you are facing. For example, mouth guards or Botox Therapeutics can be a simple but effective preventive for teeth grinding.
Depression
Depression can make it impossible for you to motivate yourself to do your daily activities. That includes brushing and flossing. You may even be putting off your scheduled dentist visits for cleanings and fillings thanks to your mental health condition. Poor oral care combined with avoidance of dentist visits makes for a high risk of oral health problems. This is another condition where your cortisol levels peak, leaving you vulnerable to infections. Medications for these conditions are often found responsible for dry mouth, which can lead to several oral health issues.
Simple solutions like getting someone to remind you about oral hygiene routines or setting timers to do it can help. Talk to your doctor regarding other ways to tackle depression and counteract the side effects of depression medication.
Pica
More common in children, Pica is a mental disorder that prompts compulsive eating of typically non-food items. This could be clay or dirt, hair, ice, ash, soap, or pebbles – basically, things that have no nutritional value or can be quite dangerous when ingested. Hair or dirt, for example, can be very damaging to the digestive tract. Crunching ice or pebbles can damage teeth and destroy the enamel.
Visits to the dentist for frequent cleanings and fillings or dental work may become the norm if you suffer from this disorder. However, you can only find a solution if you tell the dentist why your teeth are getting damaged. Often, the individual is embarrassed to admit the issue, and the dentist is unable to give a final solution. Mostly this is because this problem needs regular therapy and treatment. Both hinge on the specific type of non-foods eaten, the age of the patient, and other factors.
Untreated, Pica can cause a number of dental health problems apart from chipped or cracked teeth. It can result in oral infections, permanently damaged teeth and gum inflammation.
Keeping your mind healthy is a great way to ensure overall health and oral health. Mental health issues can manifest as oral health problems or create dental issues. Get advice from your dentist in conjunction with your regular doctor or physician to ensure that your mental health and oral health are safeguarded in the right way.