Oral Care Must-haves to Take on Vacation
March 03, 2023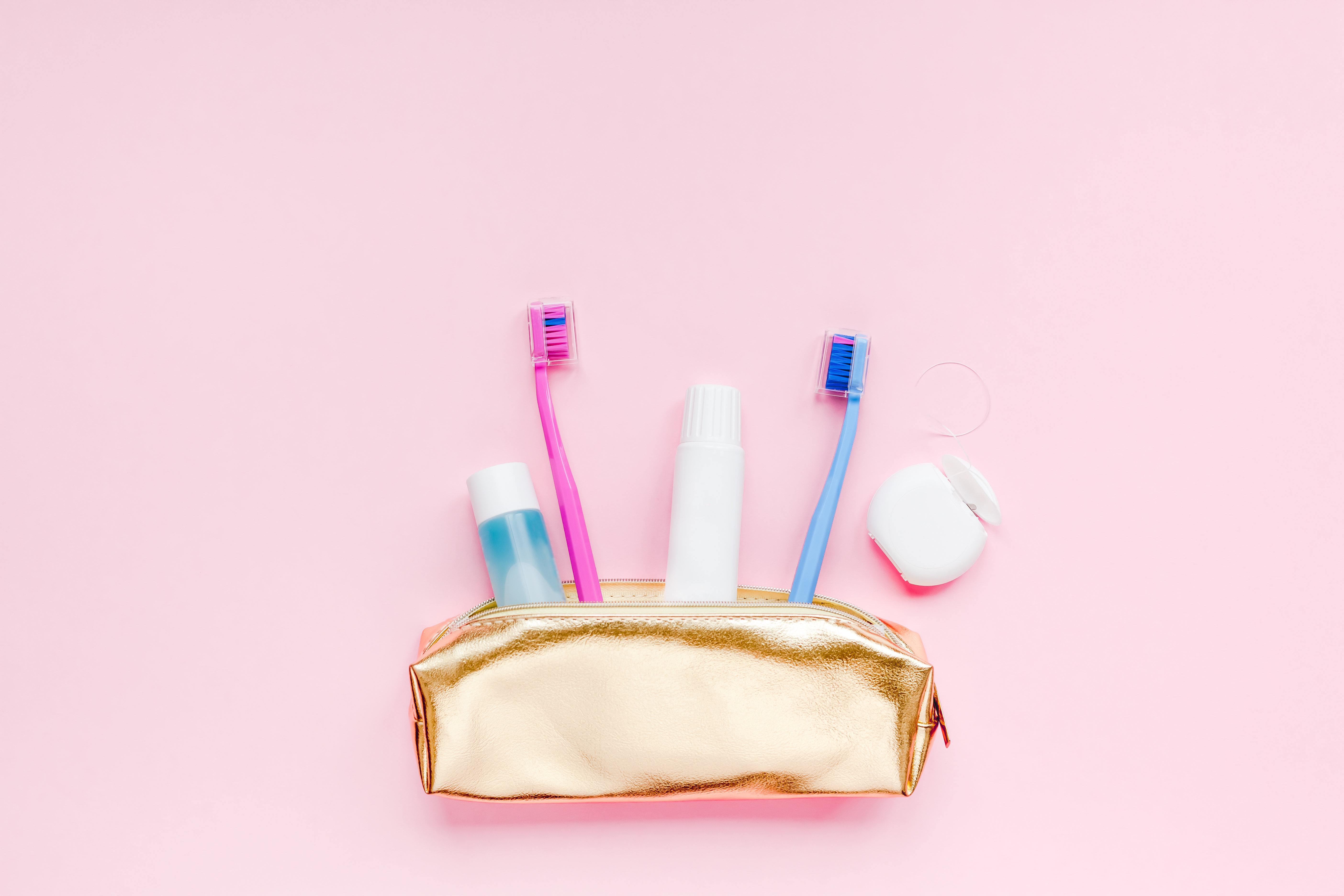 All set for your vacation? Don't forget your oral care kit in all the travel excitement! Here is a checklist you can keep handy to ensure you have all the necessary dental products you may need on your trip. It is also a good idea to have dental cleanings before you start your journey.
The essentials
Are you thinking of showing off your perfect pearly whites in your vacation pictures? Here are a few travel essentials you should carry with you to ensure your oral health does not suffer while you are having fun.  
Toothbrush, tongue scraper, and toothpaste
Your dental travel kit must have a toothbrush with a cover, a tongue scraper, and toothpaste. Electric toothbrushes are a great option, saving you time and effectively cleaning your teeth. If you carry your oral care pack, you will not have to be at the mercy of hotel-provided dental kits.
Travel case specific for oral care items
You will want to get ready fast and rush off for your fun activities. So ensure to have a dedicated travel kit for your oral care items. This will help you find them quickly and complete your routine without any delays.
Mouthwash
Mouthwash can help you fight bad breath and kill germs while you are in transit. Keep a pocket-size bottle or mouthwash tablets in your dental travel kit.
Dental floss or floss picks
Carry floss picks or dental floss in your kit. You may also want to keep a few in your purse or pocket wallet. This will come in handy to help remove any food particles that get stuck in your teeth when you are out and about.
Don't forget!
Remember to carry a mini first-aid kit that should include dental floss, a cold gel pack, oral pain relief medication, regular bandages, gloves, gauze, and tweezers. This will help you address emergencies like tooth pain or gum swelling. Talk to your dentist and carry any other medicines or items they may suggest.
Suppose you use dentures, retainers, mouth guards, or aligners. Store and carry them safely in a proper travel case. If left in the open, these could catch germs! Leaving them unprotected can also result in damage. Drop a bottle of appliance cleaner in your travel bag so you can keep your mouth inserts in a fresh condition.
Keep a small dental care kit with a toothbrush, toothpaste, mouthwash, and tongue cleaner in your carry-on hand baggage. This will significantly help if your luggage is lost or misplaced in transit.
Fun extras
Some fun extra products you can carry with you are an SPF 15-30 lip balm for protection from the sun, packs of sugar-free chewing gum, and a pocket mirror. Avoid teeth staining by carrying a comfortable, easy-to-use teeth whitening product. Ensure you talk to your dentist before using any teeth whitening treatment. Also, include a refillable water bottle in your travel bag so you do not have to buy one-time-use bottles.
If you have any particular dental issues, consult your dentist before you leave for your vacation. Your dentist can guide you on a few foods and drink items you should avoid because of your condition. When you are prepared with these travel necessities, you can have fun on your vacation and leave your oral care worries at bay. Once you are back, prioritize your dental cleanings, and your oral health will be in mint shape!