Tooth-Friendly Foods to Server at Your Summer Party
June 25, 2023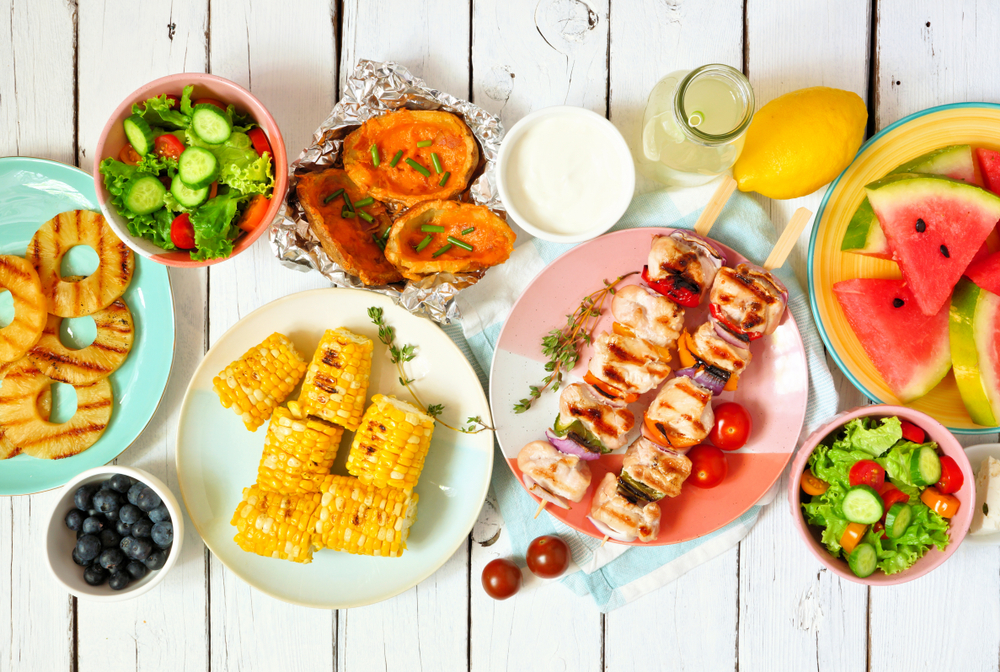 Dental professionals know the importance of maintaining healthy teeth and gums. Eating tooth-friendly foods is an essential part of oral health maintenance, and it is even more important during summer when we tend to indulge in sugary and acidic treats. In today's article, we will share the top five tooth-friendly foods that you can serve at your summer party, as well as fun tips on how to present them to your guests.
Raw vegetables and fruits
Raw vegetables and fruits are a classic go-to party snack. They are easy to eat and bring pops of colour to the buffet table. These colourful food items are fiber-rich and full of vitamins and minerals, essential for healthy teeth and gums. They also stimulate saliva production, which aid in neutralizing acids and rinsing away food particles that may cause decay. Some great options include celery, carrots, cucumbers, watermelon, and strawberries.
To serve: Cut the fruits and veggies into bite-sized pieces. Alternatively, you can use cookie cutters to add some fun and arrange the cut-out fruits and veggies on a platter or skewer for easy snacking. Remember, you can add a fresh yogurt dip which guests will love!
Fun fact: Crunchy fruits and veggies like carrots and apples can help to naturally whiten teeth by scrubbing away surface stains.
Cheese
Cheese is a tooth-friendly food that boasts abundant calcium and protein, both vital for promoting strong teeth and bones. Additionally, cheese stimulates saliva production, facilitating the neutralization of acids and providing protection against tooth decay. Including cheese in your diet supports dental health and contributes to maintaining strong teeth and bones.
To serve: Create a cheese board with various cheeses, crackers, and fruits for a fun and interactive snack.
Fun fact: Cheese is composed of casein, a protein recognized for its acid-neutralizing properties in the mouth and ability to restore enamel.
Nuts
Nuts serve as a superb source of protein, beneficial fats, and vitamins and minerals that are essential for healthy teeth and gums. They also stimulate saliva production and help to neutralize acids in the mouth.
To serve: Create a trail mix with a variety of different nuts, dried fruit, and seeds for a healthy and satisfying snack. Keep the ratio of dried fruits to a minimum, as they can get stuck in between your teeth.
Fun fact: Chewing nuts can promote blood circulation to the gums, contributing to their overall health and well-being.
Green tea
Green tea is a tooth-friendly beverage that is abundantly rich in antioxidants, which can help to protect against gum disease and tooth decay. Green tea also contains fluoride, which can strengthen tooth enamel.
To serve: Brew a batch of green tea and serve it cold with a slice of lemon or lime for a refreshing summer drink.
Fun fact: Drinking green tea after meals can assist with reducing the amount of bacteria in the mouth that can cause bad breath.
Water
Proper hydration with water plays a vital role in maintaining oral health as it aids in the removal of food debris and the neutralization of oral acids. Ensuring an adequate intake of water helps cleanse the mouth and mitigate potential oral health issues caused by residual particles and acidic environments. It is also sugar-free and calorie-free, making it the healthiest beverage choice for your teeth.
To serve: Fill a large dispenser with ice-cold water and add slices of lemon, lime, or cucumber for a refreshing and flavorful drink.
Fun fact: Drinking water after eating sugary or acidic foods can help to neutralize the acids and protect against decay.
In conclusion, serving tooth-friendly foods at your summer party is not only good for your guests' oral health but can also be a fun and creative way to present healthy snacks. Remember to offer a variety of options and to present them in an appealing way. By taking this step, you can assist your guests in preserving the health of their teeth and gums while they delight in your summer gathering.
If you have overindulged in sweet snacking during your summer festivities, consult your dentist for your next dental cleaning and filling appointment.